Sustainable Living at Home - Laundry
Sometimes it feels like it is a never ending chore especially with the kids around. It is one area that we can all have a big impact just by changing a few habits, helping save you money in the process.
-One of the first things to try and do is to try and reduce the number of times you wash your clothes. This helps save water, electricity, detergent, your clothes and most importantly your money.
-Reduce your plastic consumption by finding suppliers who will sell detergents in refillable containers
-There is an increasing amount of evidence that microfibers and nanofibers are ending up in the ocean so try and buy fabrics that are made from natural fibres as this reduces the chances of microfibres ending up in our waterways
-Coraball or Guppyfriend – both these items go in the wash and help to capture any microfibres in the wash. They will help to reduce what ends up in the waterways by almost 30%. There are also options that can help to reduce this by almost 90% but would require a plumber to fit this to the water pipe.
-Go natural – there are lots of plants based non-toxic options available now. If you are feeling more adventurous why not try making your own laundry detergent from soap nuts and some essential oils. You can either look at using them whole or making a washing concentrate from them
-Eucalyptus oil and baking soda – one of our team swears by this as an alternative to toxic stain removers. Eucalyptus oil is great for deodorising and removing any oil-based stains on clothing and baking soda helps to brighten colours and whites.
-Wash on a cold cycle as this uses 1/15th of the energy of a hot wash cycle.
-Avoid tumble drying which uses approximately the same amount of electricity generated by 16 solar panels.
Are you already using any of these tips at home? Please share any of your tips and tricks that you use at home…
Masked Heroes
To show our appreciation to guests who have agreed to postpone their stay, we have been sending out thank you packages. Amongst other things, the packages have included an Indonesian coffee sample. These come from our coffee supplier, Ross Bright, who like many others in this crisis, has pivoted his business to supply retail customers in Singapore.
So I headed down to the post office with arms full of thank you packages. The queue wrapped around the building outside. After a digital registration and a temperature check, I finally made my way to the counter, all the while making sure not to knock over anything or anyone with our mountain of boxes.
The sales clerk behind the counter asked what was inside the packages which immediately made me think 'oh dear', maybe I shouldn't mention the coffee in case you are not allowed to ship coffee through the post. No sooner had she asked the question than she remarked that it must be coffee! Damn, what to do? It quickly became apparent however that she was a big coffee fan and even asked me where the beans came from.
One of the benefits of social distancing procedures is that no irate person can curse me up close, so I recounted my story, telling her that the coffee was from Sumatra and is roasted in Singapore by a supplier we have been using for many years.
So helpful was the service that I vowed to bring back a sample of coffee for her on my next visit.
On my return visit I cleverly (for me) remembered to bring a spare pack of coffee for my coffee loving sales clerk but was disappointed when I realised that she wasn't behind any of the counters. The equally friendly man who served me was very happy to accede to my request to pass a sample of freshly roasted coffee to "the lady who likes coffee". I left feeling sad that I hadn't handed over my coffee sample in person but somewhat pleased that I had marked another task off my long To-Do list. Albeit with a nagging concern that my coffee sample might never get to its rightful owner.
I was therefore thrilled when my very friendly coffee loving clerk was behind the counter on my last visit. Hidden behind my mask I doubted she would recognise me, so I timidly asked whether she had received my coffee sample. Her eyes lit up as she made the connection and proudly told me that she enjoyed the coffee so much she had put an order in.
That news made my day and the first thing I did was to message Ross and let him know the connection behind his latest sale.
It also got me thinking how these sorts of connections put smiles on our faces and how masks are hiding those smiles and creating anonymity with those that we encounter on a daily basis. There is nothing better, now more than ever, than someone bringing a smile to our faces. Yes, the masks are helping to keep these exposed staff safe but it is also making it so much harder for them to share a helpful smile when one of their customers might be exposing them to the virus.
The medical teams are heroes but so too are these people who help put a smile on our faces and bring a little warmth to our hearts. Thank you Sylvia from Alexandra Post Office in Singapore for your masked smile!
Andrew Dixon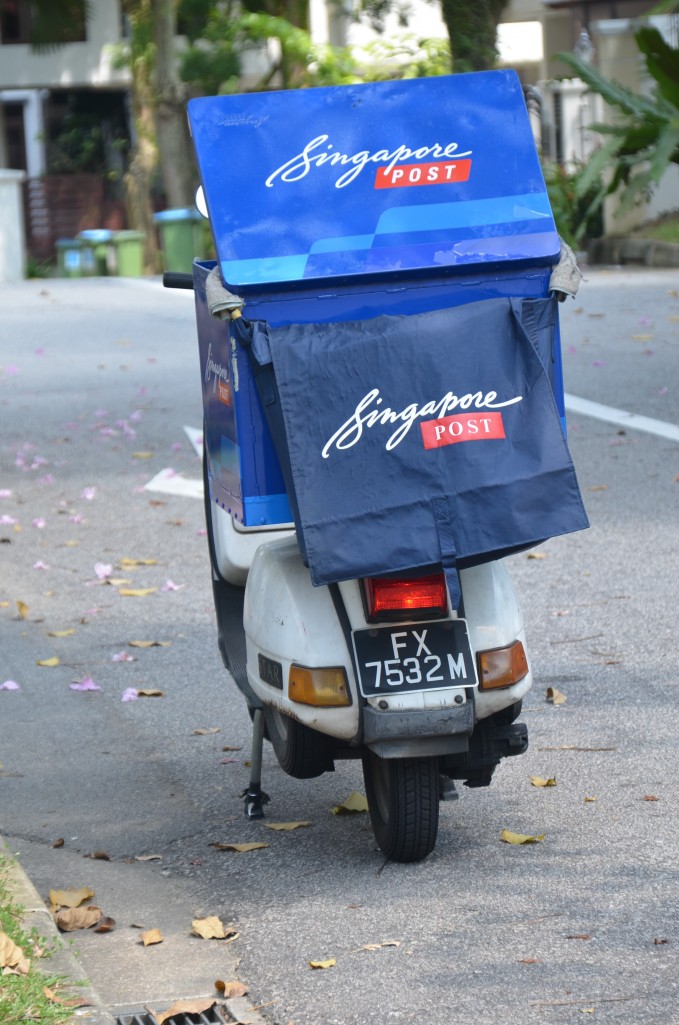 Strange Days
The sky was melting orange sherbet as I arrived at the base. Waves were dutifully lapping against the rocks as the boats swayed on the breath of the sea. As I sat, watching the day clock into night, I was reminded of when I first arrived here exactly one year earlier.
The Riau Archipelago is a vast stretch of Islands in Northern Indonesia which boasts white sands and superb sunsets. After living and working here for a year, this strange spit of land had become my home. It was the 15th March and I had no idea that in just a few minutes my life would capsize and myself and everyone around me would fall down a rabbit hole.
A WhatsApp message pinged on my phone. Breaking news. A new policy had been put into place for those entering Singapore after midnight on 16th March – a 14 day mandatory quarantine aimed to cut down the spread of Covid-19. It was applicable to people travelling from a variety of countries; the UK and Indonesia amongst them. My heart dropped into my stomach like an anchor. My face flushed as it began to dawn on me what this meant for my family, my job, my home and the people I work with.
My mum and her husband were due to fly to Singapore on the 17th and I had planned an entire itinerary for them as well as a holiday to the pristine and luxurious islands of Nikoi and Cempedak where I work. We had been arranging this for months and even after a cancelled flight and much uncertainty around travelling back to the UK, she had decided to come anyway. This news however, was a deal breaker. I called immediately and broke it to her. Utterly disappointed and heartbroken that I didn't get to see them, I ended the call and began to unravel the next part of this news.
Let me explain.
Almost every single guest that comes to the islands will travel from or via Singapore which meant that every guest who didn't return there by midnight the next day would have to quarantine themselves. Not an attractive prospect for most people. My phone was a flurry of activity. My best friend Kirstie, who also works on Nikoi was in constant communication. We had just been to a wedding in Bintan and I had left her just 30 minutes earlier in the capital city, Tanjungpinang. The news was spreading fast and the teams on both the islands were already frantically booking ferries for the guests. Due to the virus, fewer tourists had been coming into Bintan recently, which meant the ferry schedule had reduced to just 4 boats per day, and the seats were selling fast.
One family was due to arrive at the base any minute from Singapore. They were crestfallen when I broke the news to them. Luckily, this job has honed my ability to remain calm and clear under pressure. I was focusing on the next step: Get. The Guests. Home.
As the four outboard motors grumbled to life, the sky was almost black and the stars were popping like pinpricks in a cardboard box. The 15 minute boat ride to the island was the longest it's ever been. I hit the jetty running and headed straight towards the dining room where most people would be taking their evening meal. Almost everyone had heard the news and had either already booked their tickets or were in the process of booking them. I informed everyone of the situation and me and my colleagues, Nawe and Darto, spent a manic few hours ensuring everyone had a seat.
By the end of the night I was emotionally and physically drained and as I sat at the bar with some of the guests. There was a strange feeling in the air. Like the eve of battle, there was a sense that something big was coming. A shockwave event was echoing around the world and now, it was our turn. Both guests and staff sat together that night and as I drank a much needed Gin and Tonic, all I could say was, 'It's going to be okay, we just have to look after each other.' It was and is true. In times like this we have to stay strong, not give into our anxieties and take care of each other.
My heart broke again the next day when I left the island on the midday boat. There was a sense that nothing would be the same again. Everything that should be happening was now not going to happen. The future, usually relatively predictable, was unraveling. The most interesting and disconcerting element of our current circumstance is the fragility of our world. This event, this global pandemic has affected everyone. What will happen next? The world is having an existential crisis and I still can't quite believe it.
Kirstie had managed to get a last minute ticket on an extra ferry they had scheduled to Singapore. We were silent for most of the journey. I wrote a poem in the back of the car:
This rat caravan
Slinks from sinking ship
To rising tide
Four cars wending
We are bringing
Up the rear
This black evacuation
Uncertain in tight format
Tarmac refugees
Four cars forward
Adrenaline palms calm
In sticky situation
This sleepy soldier
Stomach sick sings inside
Through foliage
Four cars screaming
Head heavy eyes
Can only look forward
As we arrived at the office in Singapore our boss greeted us with frosty home brew beers and we sat round trying to gauge the situation. There was work to be done.
The following days were spent in a flurry of emails, damage control. The reservations team was overwhelmed by communication and so Kirstie and I, both experienced office workers set to work.
We spent a week in Singapore. Each day a new layer of information piled on top of us, narrowing our options by the minute. A decision had to be made and each individual person had to make it for themselves. For people living abroad it basically meant you had to decide where you were choosing to ride this out. Nobody knows how long this is going to last. The rough estimate seems to be a few months but travel restrictions could go on for longer.
There were moments I was sure I would return to the UK. Other times I was frozen on the spot and thought that I would stay in Singapore but after spending just a few days there, my bank account told me otherwise. It was home or Indonesia. But which one?
If I went home, where would I stay? I considered buying myself a van to live in but it seems that a few people had the same idea and the UK has banned the use of public places to hitch up your van. I didn't want to risk exposing my mum (she is in the vulnerable category) to the virus and I wouldn't be able to see my friends anyway.
I decided to go back to Nikoi Island. Both Kirstie and I would ride out the next…however long…there.
And here we are. It's been a week since we arrived. Nikoi, usually full of activity and life, is silent. We are in a 14 day quarantine at the moment and almost halfway through. We are staying in one of the villas – number 15. Quarantine in Villa 15. There's worse places to be stuck but I must say, the strange and eerie silence of a deserted island is more taxing than you would expect.
Our quarantine lifts on 4th April and we will be free to socialise a little more. We spoke today about how strange everything is. How did we end up here? How long will this go on for?
We are well cared for though. Yesterday we had a delivery from the mainland. It was like Christmas. Biscuits, coffee, gin, beer, ice, limes and cigarettes. We're like prisoners getting contraband delivered 'from the outside'. We shop via video call. We're getting really good at Monopoly Deal. We have plenty of teabags and vegemite. Over all, we're good.
Our Determined Swiss Couple
With the Singaporean government's announcement of travel restrictions, due to
COVID-19, almost all of our guests had to go home. Two couples though reacted
differently.
Carmen and Patrick, who flew from Switzerland and Daniel and Lucie, who lived
in Singapore.
In 2017 the Swiss couple read about Cempedak in a travel magazine. They
arrived later that year as their interest was piqued. Only 11 villas were finished
and the spa was yet to be completed but they knew they'd be back. In 2018 they
came back for a longer stay and in January 2020 they received a special offer,
tempting them back for a third time in March.
Carmen and Patrick had clearly taken Cempedak into their hearts and despite
the growing unpredictability of COVID-19, decided to go for it. They intended to
fly via Oslo then Jakarta to Tanjung Pinang, the airport on Bintan. Then after
their stay, fly home from Singapore.
In Zurich, at the departure gate, their bags were unloaded as the Norwegian
government denied all foreigners the ability to transit through Oslo. Qatar
airways put them on a flight the next morning, transiting through Doha and
despite the initial doubts they would make it, they finally stepped out onto the
Cempedak jetty. Seemingly escaping the madness.
That evening though their meal was interrupted by myself, as I had to break the
news to them that Singapore was imposing a quarantine notice and they would
not be able to transit through on Saturday as they intended. Everyone else I'd
talked to at this point had immediately booked a ferry but Patrick and Carmen
looked at each other briefly and said:
"We'll stay and fly back home via Jakarta instead"
Later that evening, as I walked past the seemingly deserted Dodo bar, I heard the
unmistakable James Bond theme tune rumbling from our outdoor cinema. I
popped my head over the handrail to see it completely deserted, as expected, but
for our resident Swiss couple, enjoying a bit of Sean Connery in these strange
times.
For the next two days, the island was theirs. The sunsets were spectacular and
the cocktails flowed freely as Patrick and Carmen embraced the peace whilst it
lasted. They were in the eye of the storm though and on the third day received a
message that they must return to Switzerland or risk being stranded. In their
own words:
"This ends our holiday here in paradise earlier than expected, but later than many
others who had to leave the island 2 days ago.
Truly, a private island experience.
One thing is for sure; we will be back as soon as possible!
Till then – all the very best to the staff. You really made our stay as perfect as it
could be and most memorable. Thank you and see you soon."
We look forward to welcoming back Carmen and Patrick for a hopefully less
eventful, but just as memorable experience.
Best wishes from everyone here on Cempedak.
Josh Porter
Guest Relations Manager
The Last Couple On Cempedak
On Cempedak we pride ourselves on providing our guests with the complete private island experience. The getaway from city life that everybody deserves. For Daniel and Lucie though this was taken to an extreme.
Due to the Singaporean government's quarantine lockdown and other countries calling for travellers to return home, Daniel and Lucie have been the only guests on the island for the past 5 days. On their final evening, I asked them to join me in the dodo bar to recount their unique experience.
Daniel, the Aussie and Lucie from Wales met in Singapore whilst watching the rugby at a bar. The rest, as they say, is history and a couple years later they had to put their heads together to decide on a place to get married. How were they going to please the Australian and Welsh contingents?
Lucie
"We wanted all of our friends and family in one place, so we thought we would try out Nikoi for a night and see what we thought"
After meeting with Bar Manager Jimmy, Guest Relations Manager Tom and Chef Dika; Lucie and Dan came to the conclusion that Nikoi was what they were looking for.
Dan
"The Nikoi team made it so easy. Flowers? We can make them for you. Wedding Carrot Cake? Not a problem. After meeting a few more times in Singapore we were good to go"
Lucie described the wedding as four days in paradise that were meticulously organised.
Dan
"Everyone hates organised fun, but if people have had a drink, it goes down much better"
After a day of sandcastles large enough for eight people to stand in, tug of war and canoe races the Aussie and Welsh participants were well acquainted and dinner that night was on one table for 45 people on the beach.
The next day the wedding went off without a hitch… apart from Lucie not realising her wedding song was playing, so staying behind a boulder on the beach. Leaving Dan at the altar with sweaty palms:
"Mate I thought she wasn't coming… a small sea plane flew overhead after 20 minutes of the song repeating and all my mates were like "she's gone"
Luckily Lucie appeared from behind the boulder following the bands fifth rendition of "you're the one that I want" from Greece (a slightly slower remix Lucie's a fan of), and they tied the knot.
Following a fancy dress party the next day, with Dan dressed as a pharaoh and Lucie dressed as a unicorn, that classic combination, they left as a married couple with some great memories.
Also stored in their memories was the mention of another island… An island that was under construction, but was adults only and being built by the same company that owned Nikoi. Lucie knew where she wanted to go for her birthday in 2018. Cempedak.
Lucie
"We got there in the evening and were put in villa 20. We could hear the sea but couldn't really see anything. We wake up the next day and are like "wow that is amazing". It's a bit more private than Nikoi on Cempedak"
Dan (grinning)
"Which I like because I don't have tan lines any more"
It's fair to say Daniel and Lucie feel at home here.
Lucie
"The staff too. Every department. Housekeeping can't do enough, gardeners know your name, the chef's know your dietary preferences… it's amazing"
Josh
"So now we come to your latest stay with us. This has been a bit of a unique one. You came here for your babymoon?"
Lucie
"We wanted to go away before the baby's born, Europe was shutting down due to the virus so we thought "Where doesn't have corona? Cempedak"
Dan
"We arrive in the evening only for Jimmy to tell us that people returning to Singapore after Monday the 16th (the next day) were being told to self quarantine for 2 weeks"
Lucie
"Everyone was leaving, but we were in a safe place and this was going to be our last chance to get out of Singapore before the baby arrives"
Daniel's office was closing down and Lucie, being a physio, was going to have less appointments due to the virus affecting her work. So they decided to not just stay, but to extend their stay for an extra four nights.
Dan
"At the time we were a bit nervous. What are we missing? Everyone's leaving. But then after a while we'd look at each other and say "definitely made the right decision".
They were practicing an extreme level of social distancing.
Josh
"So how was your week of being Robinson Crusoe?"
Lucie
"Very relaxing, everyone knows our name… but it always feels like that, even when the island's full. So apart from meals and at the bar, it's not actually been that different"
Dan
"I feel like I'm letting the side down if I walk past the bar… because you know it's just us… and the spa is obviously just open for us"
Lucie
"You want to tell everyone your plans. "We're going to villa now so chill out for a bit, don't wait for us."
At the spa it's like: "We definitely won't come on friday so do what you want then, but we'll be in on Saturday for sure"
Dan
"We've had six treatments… It's been incredible"
Lucie
"I feel like you need to radio each other where we are…"
Josh
"I mean… we kind of do"
Dan
"We've felt a bit bad, because it feels like the world is coming to an end… but these guys are here just for us"
Josh
"You guys being here has meant this week has been weird but there's been some normality. It's been great having you and we will be sad to see you go"
The next morning Lucie and Dan said their fond farewells to the Cempedak family that they are well and truly part of. It was sad to see them go, but when the time's right we look forward to welcoming them back to Nikoi, with their baby, or to Cempedak (if they can get the grandparents to babysit).
Josh Porter
Guest Relations Manager
The Quarantine Order
As dusk approached I was scanning through articles related to immunity. Next to me sat four pots of supplements that I'd been knocking back throughout the day. Vitamin C, French Pine Bark, Multi Vit and Lysine… Corona wasn't going to catch me unprepared.

I glanced at my watch and realised it was time to meet with guests at the dodo bar to watch the sunset and discuss the strangeness going on in the outside world. Here guests existed in a bubble of calm and cocktails, a much-needed escape from the corona and chaos in their home countries.

That was all about to come to an abrupt end…

My phone flickered silently as a message came through. I considered pocketing it till after the sunset, but seeing the sender caused me to change my mind.

"Andrew Dixon – COVID-19: Stay-home notices for all travellers entering Singapore from ASEAN countries…"

I bolted upright, grabbing my phone from the desk. One ring and Andrew answered:

"Singapore have just issued a statement saying anyone coming from ASEAN countries has to be self quarantined for two weeks if they enter after 23:59 Monday 16th…"

Christ, that's tomorrow.

The disruptive tentacles of COVID-19 had finally wrapped themselves around our island, around Cempedak. Indonesia is an ASEAN country, and all of our guests would be affected by this order.

I sprinted to the restaurant, wincing as the fracture in my fibula gave me a gentle reminder that I should probably walk. This was no time for doctor's orders though. I burst through the kitchen door to see island manager Jimmy with a furrowed brow, staring at his phone.

"Have you seen the news? We need a plan"

Luckily half the island was leaving on Monday anyway as the weekend revellers had to return to work. The other half needed to be informed though, and fast.

We quickly identified the 9 couples that were due to stay past Monday and began to track them down. As the situation was explained to them drinks glasses were placed down and smiles began to drop. They would exchange glances of acceptance and ask what the plan going forward was. There was no drama, just people getting on with it.

Cempedak guests are great - I thought to myself

The plan was for them to quickly book tickets on the last ferries leaving from Bintan to Singapore on Monday, and we would get them to the terminal.

As I checked the ferry-booking site I was alarmed at the rate seats were being snapped up. In every resort in Bintan, guests were probably doing the same thing. We hastily ticked guests off our list till we were left with 3 villas.

Daniel and Lucie, on their babymoon, didn't mind the quarantine. In fact we told them about the situation and they extended their stay for an extra week. They shrugged and said:

"If we're gonna stay we may as well go all in"

Two to go.

Patrick and Carmen from Switzerland:

"We'll just change our flight home from Singapore to Jakarta. We're staying."

Well at least Cempedak wasn't going to be a complete ghost town. It was going to take more than a measly global pandemic to force these guests to go home.

Lastly we came to Annet and Camila, trying to get back to Munich.

"Guys there's a bit of an issue. Singapore has outright travel banned people who have been to Germany in the past 14 days. So we can't even get you in tomorrow"

"We'll call our embassy in Jakarta and see what we can do"

"You could fly from Bintan to Jakarta then back to Munich from there?"

With great efficiency, Annet and Camila had got themselves onto a 13:00 flight on Monday to Jakarta and were confident of getting home.

Although there was a collective sense of disappointment amongst our guests there was also a real feeling of togetherness. We'd all found ourselves on a tiny island in this bizarre situation and somehow had gotten everything straightened out in a matter of hours.

The Cempedak staff were typically exemplary. Dutifully accepting the situation and their responsibility towards their guests. I could not have been more proud. The final task of the evening rested on Rudi, our receptionist saviour. Rudi coordinated all boat/airport transfers, car pickups and bill alterations. What a guy to have on our side.

The next day the best news I could give guests was "Unsurprisingly, all our check-ins are cancelled so you all have late check-out", this was met with good-natured smiles and thanks for the work we had done the night before.

Every guest that shook my hand as they walked off the jetty onto Mana 4 was in good spirits. Most of them even casually remarked:

"We'll be back when this all blows over"

Amidst the largest crisis to hit the hospitality industry in the 21st Century, Cempedak had been lucky enough to host a group of couples that had worked with us seamlessly to achieve the goal of getting them home safely.

As Mana 4 sped off towards base I stood on the jetty surrounded by the Cempedak team. I looked at Gayus, smiling and said, "There goes the last chopper out of Saigon". This was going to be a strange couple of months for Cempedak, but there's no team I would rather be part of.

Josh Porter

Guest Relations Manager